About Us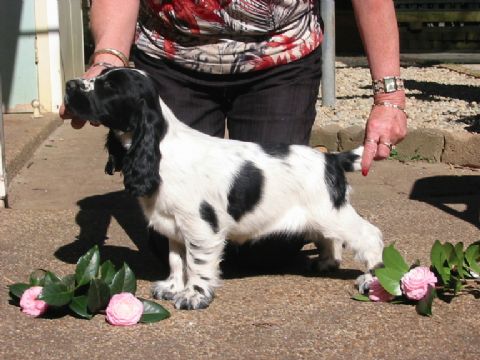 After many years of living just outside of the beautiful Historic Village of Kurrajong in the foot hills of the Blue Mountains we have made a sea change to beautiful Mollymook Beach. I have been involved with dogs all my life.

My love of showing started way back in the 1970's with a beautiful Afghan Hound bitch "Rudbar Nubia" purchased from Carol & Dennis Pepperall of Rudbar Kennels, Carol & Dennis were wonderful and took me to shows and taught me so much about showing, they were so generous with their time & knowledge.

While our family was young we owned a lovely Boxer who I took to obedience classes, when our dear old "Paws" passed away we decided to buy a smaller dog that the kids could walk, so after much research we decided on a Cocker Spaniel. We purchased our first pet "Glenbriar Just Jed" (Jed) from Sue McFadden "Glenbriar Kennels" & I went back to obedience and agility at which Jed was very good.
Next came "Glenbriar Gadabout" (Hamish) with whom our middle daughter did obedience.

The showbug, though, for me was just simmering below the surface and so along came Kenbey Over To You from Kenbey Kennels in Melbourne owned by the late Ken Morden, a lovely light blue roan bitch & then our lovely Aust Ch Cleemist Armani from Wendy & Mick Drekovic of Cleemist Kennels (our first Aust Ch) and our first home bred Champion, Aust Ch Bellebriar Bounty aka "Harvey"

We have made some wonderful friends along the way & I would like to thank them for all their help and advice, the long telephone calls and many hours of discussing dogs. We look forward to these continued friendships and the many new ones yet to be made.

We strive to breed sound healthy and well adjusted pups true to the Merry Cocker Standard as we understand that 99% of pups end up as much loved family pets.
All our dogs are fed on Pedigree Advance.